Allusion Blinds
Allusion blinds operate in the same way as a vertical blind, but unlike a traditional vertical blind which has the chains along the bottom, the unique design and soft nature of the Allusion Blinds fabric allows you to simply separate the fabric and walk through.
Fantastic solution for bifold / patio doors, large windows, or as a room divider.
Available in two fabric ranges, with or without Fascia/ pelmet (optional extra)
Horizon - is a sheer and textured woven combination in neutral, calming tones. Available in 5 colourways.
Vista - is a flame-retardant range with a subtle, geo wave combined with a sophisticated sheer. Available in 5 colourways.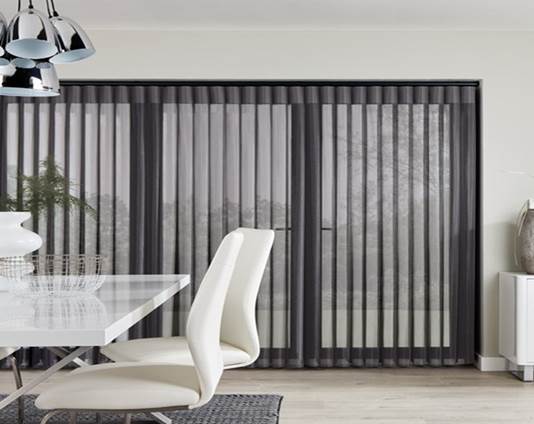 The Allusion blind gives you total control over your view and privacy with 3 control positions.
Full view - the blind is fully opened with the soft vanes slid to give a fully open and unobstructed view.
Daytime view with privacy - Control vanes into the open position and enjoy a partial view with privacy, ideal for daytime
Total privacy - Rotate the vanes to the closed position to enjoy total privacy, ideal for night-time.
Available to view in our Thatcham showroom - Come visit our showroom, click here for more information.
Allusion Blind Gallery
Find out more about our products
Make a no-obligation appointment today
Modern and traditional styles, fabrics to compliment your rooms. Whatever your needs: function or aesthetics (or both!), we have the experience and product range to offer you the best solution. For great customer service and a stunning result, speak to us today on 01635 866600 (West Berkshire) or 01189 509449 (Reading)